Case Study
Act One Arts Immersions
Co-Located
Instructor Lead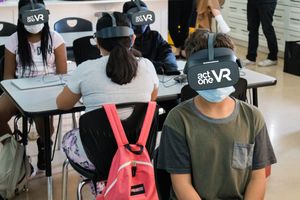 Overview
Bringing interactivity to the classroom
During an incredibly difficult time for educators and students, Act One wanted to harness the power of virtual reality to transport kids somewhere wonderful and inspiring - even if they couldn't leave the classroom. The feeling of a magic school bus that could take you anywhere in the world to see art and hear music and stories from artists who were also relatable and could look them in the eye while telling them how and why art was so important.
This is so much more than walking into a classroom with a box of VR headsets. This is a true group experience that is designed to be easy for teachers and students. With Borderless, a teacher can control every headset in the room individually and as a group- deploying experiences and tailoring preferences for the specific needs of every child.

While one continuous story runs through our field trip, it is broken down into digestible chapters and interspersed with opportunities for in-person conversation. We work to build lesson plans that enhance and extend the field trip - the trip can be the beginning or the culmination of a greater lesson.

With Act One Arts Immersions, we have been able to capture a feeling of going to a faraway place that really is so close to home - anything is possible with art, virtual reality and the desire to explore and learn.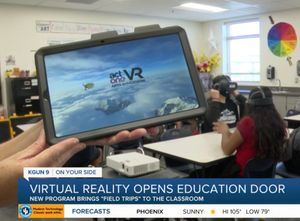 Safety is our priority.
Before students embark on a Virtual Field Trip, they're given instructions about safety and comfort and know that they can remove the headsets at any point.
We provide a similar 360 degree experience on tablets for anyone that cannot or does not want to use a headset.
We moderate the sessions with at least two instructors at all times to make sure the children are wearing headsets properly and aren't having any issues.
The experiences themselves would be rated 'comfortable' according to industry guidelines as they don't involve any fast or jarring camera movements or the need for the user to quickly turn their head.
Each experience is broken up into 'chapters' which last no longer than 10 minutes, punctuated with discussion sessions that the students take part in without their headsets.
Finally, we override the headset's operating system so that there's no risk of a student exiting our education experiences and loading another potentially inappropriate app.